Foray at Stoke Common on May 29th, 2011
report by Penny Cullington
Click on blue text to see large photograph
Forays at this time of year are always unpredictable and never likely to produce the long lists of species which are the norm in the autumn. After the driest spring for the last 100 years, we were blessed by substantial rainfall a few days before, and this fortunately had been enough to trigger a few fungi into action.
The four of us spent a very enjoyable morning, searching in a good mix of habitats which this unique site in the south of the county (acid heathland) can provide. We listed a modest 18 species in all, 7 of which were agarics (mushroom types having gills), with one bolete (mushroom type but with pores). Of note, and unusual to find as early in the year as this, were several specimens of Amanita fulva (Tawny Grisette) and of A. excelsa (Grey–spotted Amanita), also one of Leccinum variicolor (Mottled Bolete) – all common autumn species, but Inocybe lacera (a Fibrecap), much rarer and a speciality of this site, was in evidence in several areas, this the first time I've found it in May. The large woodchip piles were not as productive as hoped, but a clump of Coprinopsis lagopus (Hare'sfoot Inkcap) was just pushing through, this sometimes found fruiting here in hundreds. New to the site were two interesting things: the uncommon Trametes hirsuta (Hairy Bracket) growing on the plentiful Birch trees, and Jacqui's sharp eyes spotted the brightly coloured tiny cup fungus Scutellinia scutellata (Common Eyelash) on a fallen Oak stick. Peggy found a white slime mould in early stage of development, which we collected in the hope that it might continue maturing at home: two days later it turned into Reticularia lycoperdon, this previously known as Enteridium lycoperdon - no common name exists but an apt one would be Common Eyeball!
Photos of most of our collections mentioned above can be seen here. In particular, have a look at the three excellent views of the Common Eyelash, where Derek shows not only a close–up of these pretty little orange cups – only 5mm across – but also what the 'eyelashes' around the edge and the spore dispersal mechanism of an ascomycete look like under the microscope. If you, like me, find the development of slime moulds interesting, there are more photos to be found on the Photos page.
Stoke Common is always a delightful place to foray, but in the spring it's particularly pleasurable. Lesser Spearwort was flowering in the open heathland, and we were serenaded by both Great-spotted and Green Woodpeckers, also three species of warbler (Blackcap, Whitethroat and Willow), as well as the ubiquitous Skylarks, though sadly not the rare Woodlark which I discovered here at this time last year. This is also a good site for the elusive Adder, but either the day proved too cold to encourage any activity or they kept well out of our way.
List of fungi found on Stoke Common 29th May 2011
Anyone is welcome to join Bucks Fungus Group. Click here for membership details and foray programme
Derek, Jacqui, Penny and Peggy. Photo © Peggy Verrall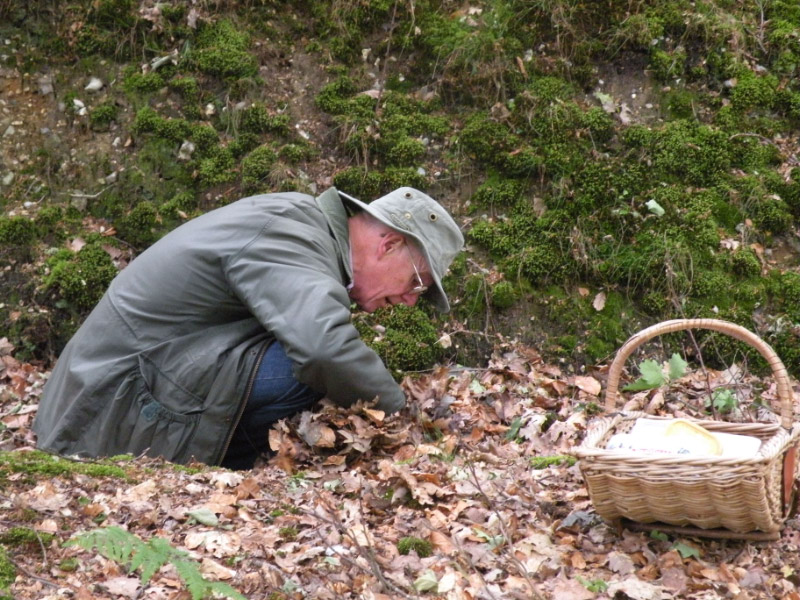 Derek on the woodchip pile. Photo © Peggy Verrall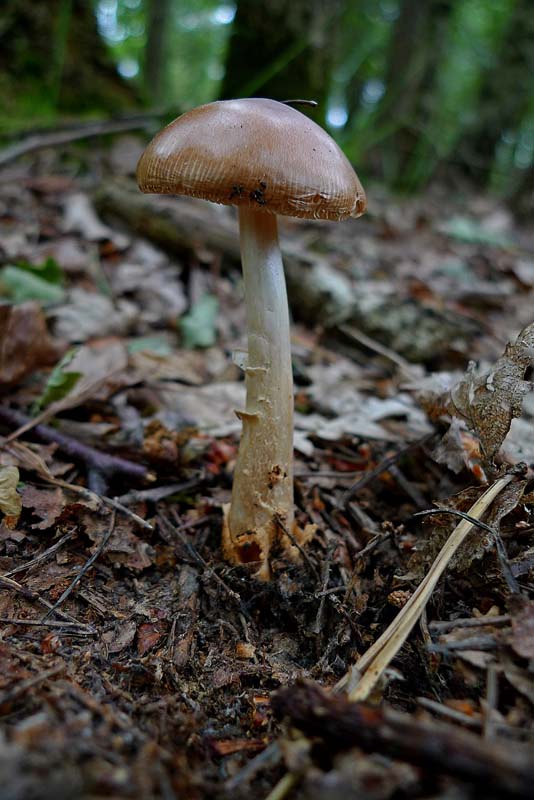 Amanita fulva (Tawny Grisette). Photo © Derek Schafer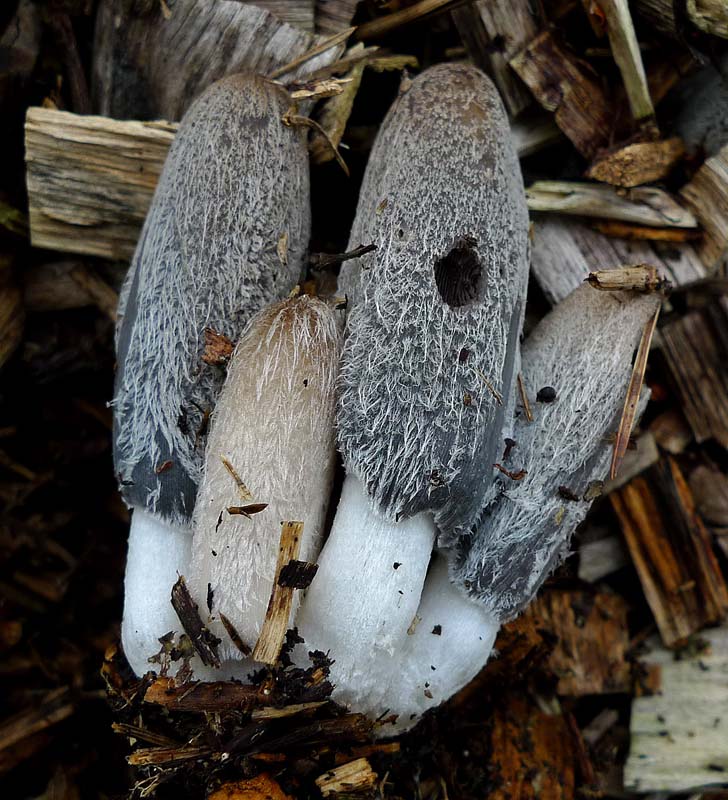 Coprinopsis lagopus (Hare'sfoot Inkcap). Photo © Derek Schafer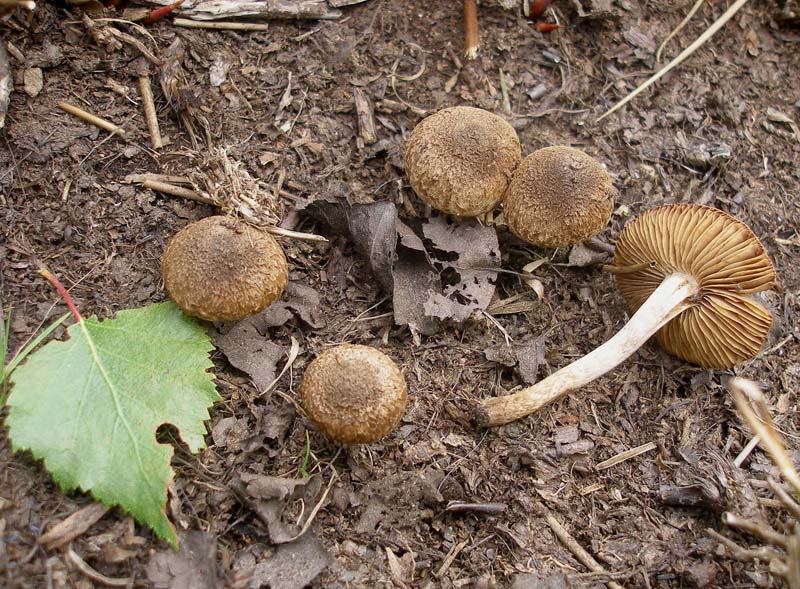 Inocybe lacera (a Fibrecap). Photo © Penny Cullington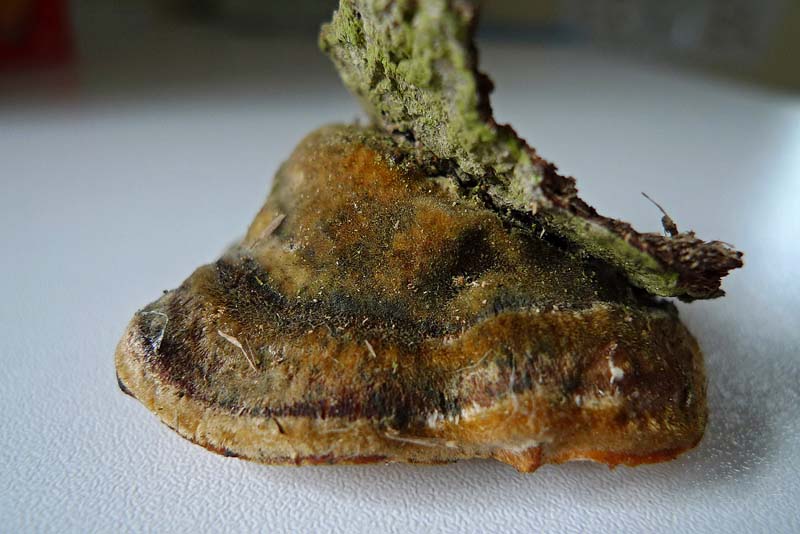 Trametes hirsuta (Hairy Bracket). Photo © Derek Schafer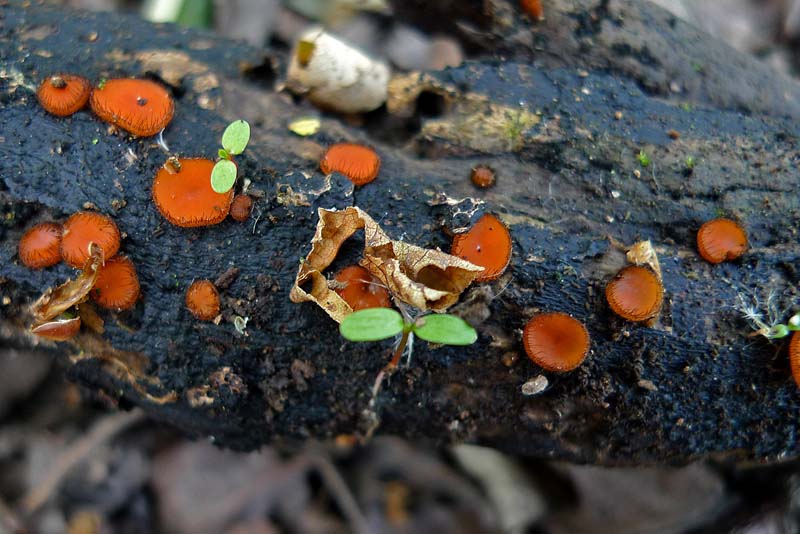 Scutellinia scutellata (Common Eyelash). Photo © Derek Schafer
Scroll down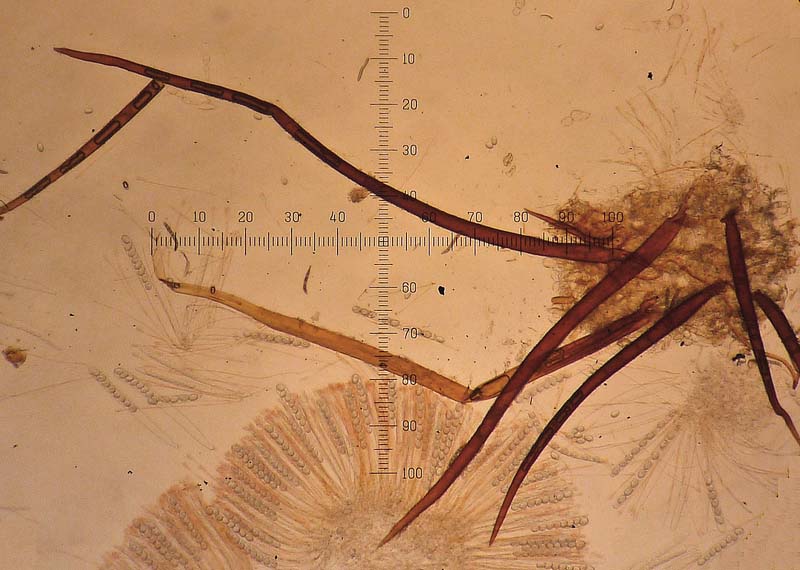 Scutellinia scutellata showing the 'eyelashes' under the microscope. Photo © Derek Schafer
Scroll down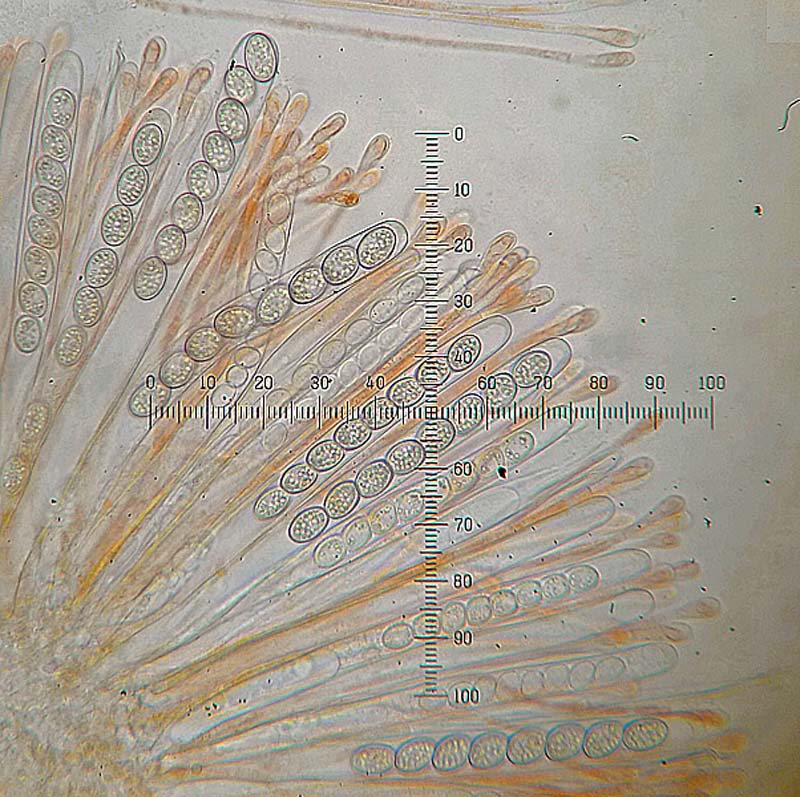 Scutellinia scutellata showing the long thin asci with 8 spores in each, found in a typical cup fungus, under the microscope. Photo © Derek Schafer
Scroll down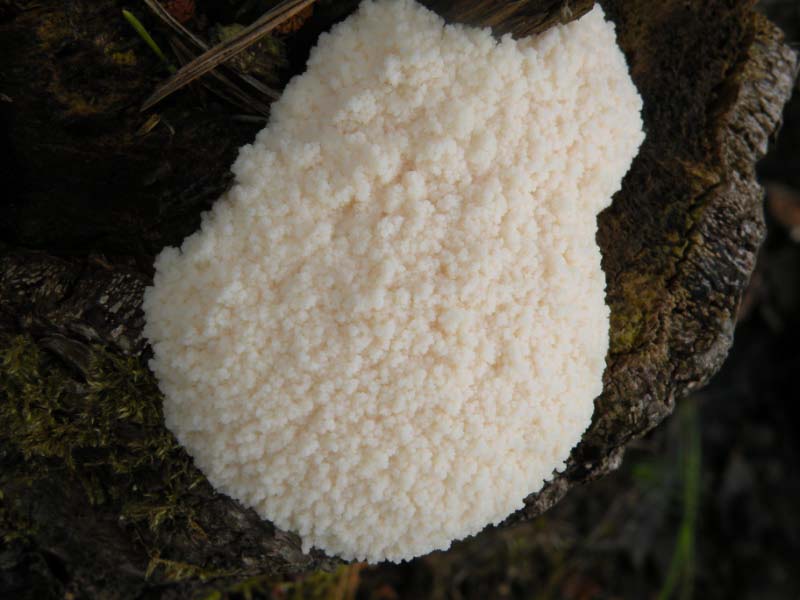 Reticularia lycoperdon (a slime mould) at the slimy 'plasmodium' stage. Photo © Peggy Verrall
Scroll down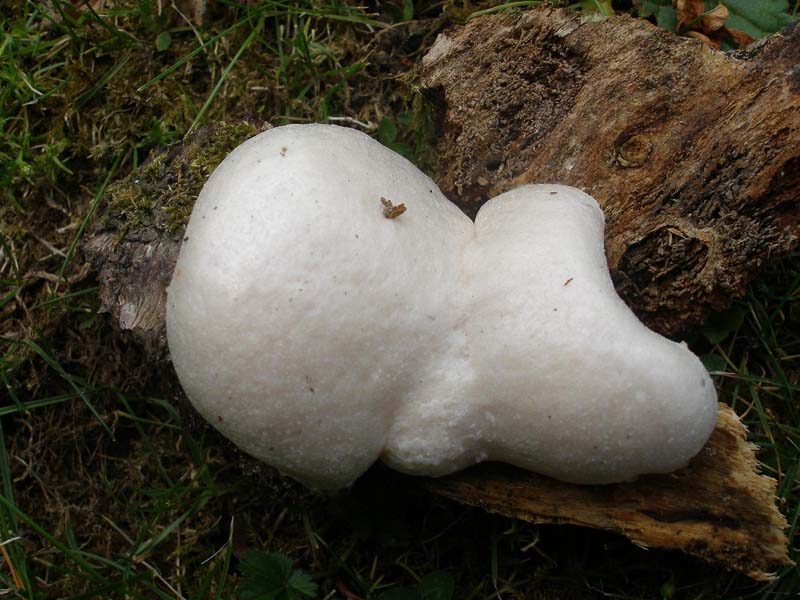 Reticularia lycoperdon showing the surface developing a thick shiny skin a few hours later. Photo © Penny Cullington
Scroll down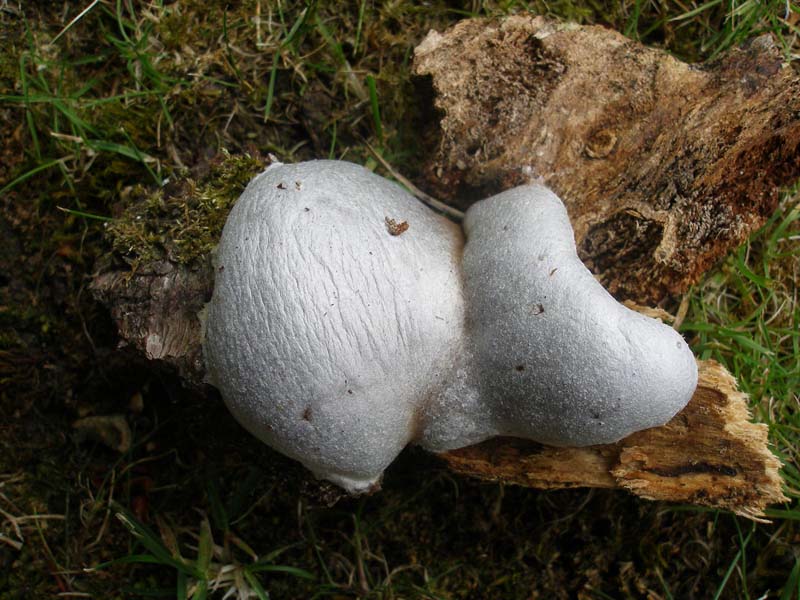 Reticularia lycoperdon next day drying off. Photo © Penny Cullington
Scroll down

Reticularia lycoperdon on the third day, now mature and showing the brown spore mass breaking through the skin. Photo © Penny Cullington
Scroll down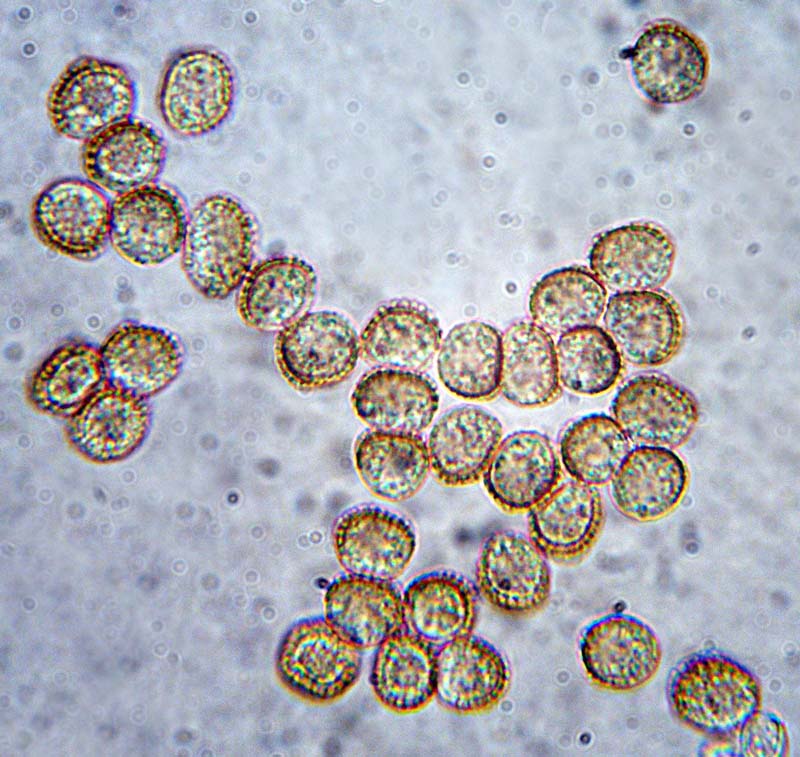 Reticularia lycoperdon spores under the microscope. Photo © Penny Cullington